Welcome to SCARLA
The Student College, Academic, and Research Libraries Association (SCARLA) organizes speakers, lecture series, events, trips and workshops to promote our understanding of academic librarianship. We aim to foster community among the students, faculty and librarians at SC&I and the Rutgers Library System and participate in conferences and activities sponsored by professional organizations at both the state and national level. 
We are also affiliated with the NJLA College and University Section and the ACRL New Jersey Chapter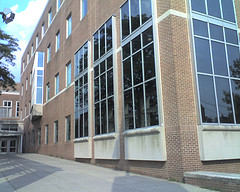 Upcoming Events & Meetings
POSTPONED
As you may have heard, this past week, after facing months of delays, intransigence, and bad faith from the Rutgers administration, three Rutgers faculty unions—Rutgers AAUP-AFT, representing full-time faculty, graduate workers, postdoctoral associates, and EOF counselors; the Rutgers Adjunct Faculty Union (PTLFC-AAUP-AFT), representing adjunct part-time lecturers; and AAUP-BHSNJ, representing biomedical and health sciences faculty—voted to go on strike in hopes of securing a fair contract.
While the strike was ongoing, we decided to postpone the panel, as we did not feel comfortable asking you or our panelists to cross the picket line to attend—or even prepare for—a Rutgers-sponsored event.
Within the last few days, the unions were able to reach a framework agreement with the Rutgers administration, and suspended the strike. While we are cautiously optimistic about the agreement, in light of the time lost during the strike, we will nonetheless still be postponing the panel so that our panelists and organizers can be better prepared.
We are still very excited about the panel and about our lineup of panelists, and hope to have a new date for you soon!
We appreciate your patience and your solidarity.
Sincerely,
The SCARLA eBoard
---
April 19, 2023, 7pm EST

Join SCARLA (Student College, Academic, and Research Libraries Association) via Zoom on Wednesday, 4/19/23, at 7pm EST for a panel discussion with SCARLA and SC&I alums: Wafa Isfahany, Fobazi Ettarh, Lorin Jackson, and Vanessa Kitzie. Panelists will discuss their professional interests, life after graduation, job searches, and advice for current students. Perfect for SC&I students thinking ahead to graduation, this discussion will be followed by an expansive Q&A session, so be sure to bring your questions!
Ways you can participate with SCARLA:
Attend meetings and events (in-person or online)
Write blog posts about events, internships, or issues
Coordinate programming and panels
Volunteer during the Spring Career Fair
Co-author the SCARLA poster for the NJLA conference
Share an article at a meeting
Teach a workshop
Become an officer
Your Spring 2023 officer board is as follows:
President: Victoria Sun​
Vice-President: Erin Mustard
Treasurer: Carolyn Quimby
Secretary: Des Kidney
Webmaster: David Moles
Members-at-Large: Bethany Falcon and M.A. Rocks
Faculty advisors: Marie Radford and Gretchen Stahlman
If academic libraries interest you, consider running for a position on the board!